Shows
Friday & Saturday, June 10 & 11, 2022
The Baked Potato / Studio City, CA
Photos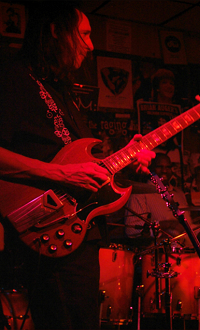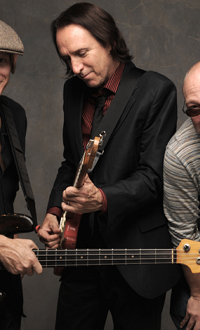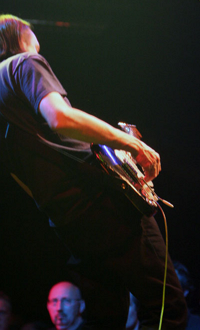 Contact
European Booking Agency:
Bella Concerts GmbH
Isabelle Pfeifer
Altmannsdorferstr. 74/13/5
A-1120 Vienna
isabelle@bellaconcerts.com
www.bellaconcerts.com
News
April 1, 2022
We'll be playing the Baked Potato this weekend,
a lot of new material… freak improvisation nights.
– Michael
February 24, 2020
Me and the boys have a special show coming up in Austin Texas on April 4th at the Saxon Pub.
The Liquid Quartet is sharing the night with the Kirk Fletcher Band and Eric Johnson, we hope you can make it.
– Michael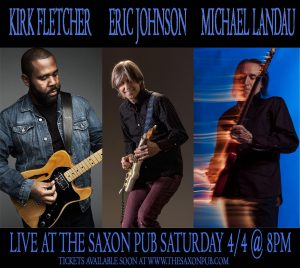 December 2, 2019
Hello Folks,
I'm playing with the Dusty Meadows Band on December 15th at the Baked Potato, hope to see you there… these guys are the real deal, they have the total spirit of Rock 'n' Roll.
– Michael
January 30, 2019
Happy New Year Good Peoples!
We have a tour coming up in Asia with the Liquid Quartet. Ian Thomas on drums, Andy Hess on bass, David Frazee on vocals and guitar and myself. The tour starts March 9th at the Cotton Club in Tokyo, the full schedule is on the tour page.
Hope to see you there.
– Michael
January 15, 2018
Happy new year friends.
We have a new record coming out February 23rd on Mascot records, called 'Rock Bottom'. David Frazee, Teddy Landau and I wrote all the tunes, its a bit of a rocker this one… it'll be available at all the usual places, iTunes, streaming sites and also on vinyl.
https://www.mascotlabelgroup.com/michael-landau-rock-bottom-cd.html
Hope you dig it.
– Michael
May 25, 2017
I have a new band in the works, this time with my old pal David Frazee on vocals and guitar, David was the singer in Burning Water. We're planning a nice long 4 week tour in Europe starting February of 2018, the dates will be coming soon…
– Michael
June 10th, 2015
I'm doing a free clinic at Gelb Music in Redwood City on July 10th @ 4pm to demo the new Hot Rod Deville and talk about improvising and all things gear related. There will also be some ticket giveaways at the clinic for my show @ Yoshi's on July 21st @ 8pm.
Hope to see you…
– Michael
March 23rd, 2015
The new Fender 'Inspired by' Hot Rod Deville is out now. This amp is based on the Hot Rod Deville 212 III, but the new inspired by version comes right out of the box with a lot of cool upgrades and mods.
– Single Channel Hot Rod Deville (with 2 switchable Volume controls)
– Switchable Boost on Volume 2
– No Master Volume
– 2×12 Celestion 70 watt "V-Type" speakers
– Speaker terminals are soldered (not clipped on)
– Metal Switchcraft speaker jack (not molded plastic)
– Upgraded 60 watt power amp section for more headroom (superior 2×12 amp with pedals)
– Strong leather handle
https://www.youtube.com/watch?v=Ml6zmPIyHlQ
Cheers,
– Michael
September 19th, 2014
Here are some new live performances we did for Fender a couple of months back. The clips were shot live in Capital Records Studio A to help spread the word about the signature model guitars…
https://www.youtube.com/user/Rascalball27
– Michael
September 4th, 2014
I'm on tour now with James Taylor in Europe until October 9th, the dates are posted on James's site…
Cheers,
– Michael
July 3rd, 2013
Some fun Geetar news… I now have a Fender Custom Shop Signature Guitar. These are beautiful recreations of my favorite vintage Stratocasters: a '63 Fiesta Red, a '68 Sunburst and a '69 Black. I'm completely blown away with these fine instruments, they have all the tone and feel of my favorite oldies…
Thank you Mike Eldred and everyone at Fender.
http://www.fender.com/custom-shop/series/artist
– Michael
December 23rd, 2012
I'm excited to be involved in a new musical happening with Jimmy Herring, Wayne Krantz, Keith Carlock and Etienne Mbappe. The band is called "The Ringers" and we have a few dates in February to start things out. The idea is to play a few originals from each members and also play some tunes written together for the band. I'm really looking forward to making some music with these fine gentlemen.
Hope you can make it out,
– Michael
April 25th, 2012
Some good analog news…
We now have a vinyl version of Organic Instrumentals available from the store page. It's a 2-record 180 gram version plus the bonus track from the Japanese release on there as well.
Vinyl is beautiful!
– Michael
January 27th, 2012
I have a new MLG record coming out February 14th on Tone Center Records. It's an all-instrumental studio records cleverly titled "Organic Instrumentals". It has some excellent players on it: Gary Novak, Charley Drayton, Vinnie Colaiuta, Andy Hess, Jimmy Haslip, Chris Chaney and Teddy Landay. Also, Larry Goldings plays some fine Hammond Organ on a lot of the tracks. I recorded and mixed it at my place and there are plans in the works to put out a vinyl version soon… You can preorder the CD from Abstract Logix.
– Michael
December 23rd, 2011
Renegade Creation is in the studio working hard on our second release scheduled for April of next year. We're very proud of this one, we have the mighty Ed Cherney doing all the engineering and mixing this time around. It'll be a fun one…
– Michael
CARNEGIE HALL SHOWS
April 27th, 2011
I'm on tour with James Taylor now, we're playing Carnegie Hall May 6th & 9th. May 6th is with James, Jerry Douglas & myself – the night is billed as "Guitar Conversations", I hope I don't have to speak! We recently posted a MLG video clip from a fan in Brazil when we played the Rio das Ostras Jazz Festival last year, the audio & video are good:
https://www.youtube.com/user/Rascalball27
We also now have a Renegade Creation YouTube channel:
https://www.youtube.com/user/rcmaster58
More clips to come soon…
– Michael
JANUARY WEST COAST RUN
February 28th, 2011
We had a great turnout on our small West Coast run in January. Thanks again to everyone for coming out and spreading the word, lots of friendly peeps…
We're planning another one in June.
– Michael
RENEGADE CREATION DEBUTS AT #6 ON BILLBOARD BLUES CHARTS
May 18th, 2010
Some good news, Renegade Creation debuted at #6 on the Billboard Blues Charts, thanks for listening! Renegade Creation and my Trio both have upcoming shows in June near the Bay Area and also Phoenix, some of them are co-bills with The Kirk Fletcher Band, details are on the Tour page. Also, I've been posting some new live video clips from The Baked Potato, the sound is pretty good, more to come soon, they are on my YouTube page. Hope all is good, thanks for the visit!
– Michael
NEW WEBSITE LAUNCHED
March 15th, 2010
Welcome everyone to the new site and thanks for coming by. It's been a long time coming but it's finally here and I'm very happy about it. I'll be updating the news and other things all the time so keep coming back. I believe we put everything in here except the keys to my car so I hope you like it! Thanks to Ben Haskett…
– Michael
RENEGADE CREATION TO APPEAR AT THE GROOVE FAMILY FUNDRAISER FOR BREAST CANCER
March 10th, 2010
Renegade Creation will appear Saturday April 17th at the Groove Family Fundraiser For Breast Cancer at the Ventura Theater @ 8pm. Robben Ford, Jimmy Haslip, Gary Novak and myself. Come show your support if you can…
http://www.venturatheater.net/calendar.php
Thanks.
BAKED POTATO 40TH ANNIVERSARY JAZZ FESTIVAL AT THE JOHN ANSON FORD AMPHITHEATER
March 8th, 2010
I'll be playing on May 22nd at 8pm with my group with Gary Novak and Chris Chaney, and May 23rd with the Jazz Ministry. Congratulations and thanks Don and Justin, that's a lot of potatoes.
http://www.thebakedpotato.com/
MICHAEL SIGNS WITH MARIA MATIASS MUSIC
February 7th, 2010
Great news folks! I've signed on with Maria Matias Music as my booking agent. She has already booked me on a jazz festival in Brazil in June and is working on a West Coast tour in the States for June and July. I wanna play! Details coming soon…
– Michael
THE RENEGADE CREATION RECORD IS FINISHED AND READY TO GO
February 1st, 2010
The new band project with Robben Ford, Jimmy Haslip and Gary Novak called Renegade Creation is finished and ready to go. We recorded this one at my place in September 2009, Rich Breen mixed and mastered it, the record should be out mid April on Blues Bureau Records.
We hope you enjoy its Rock 'n' Roll feelings…
– Michael
* * * * *